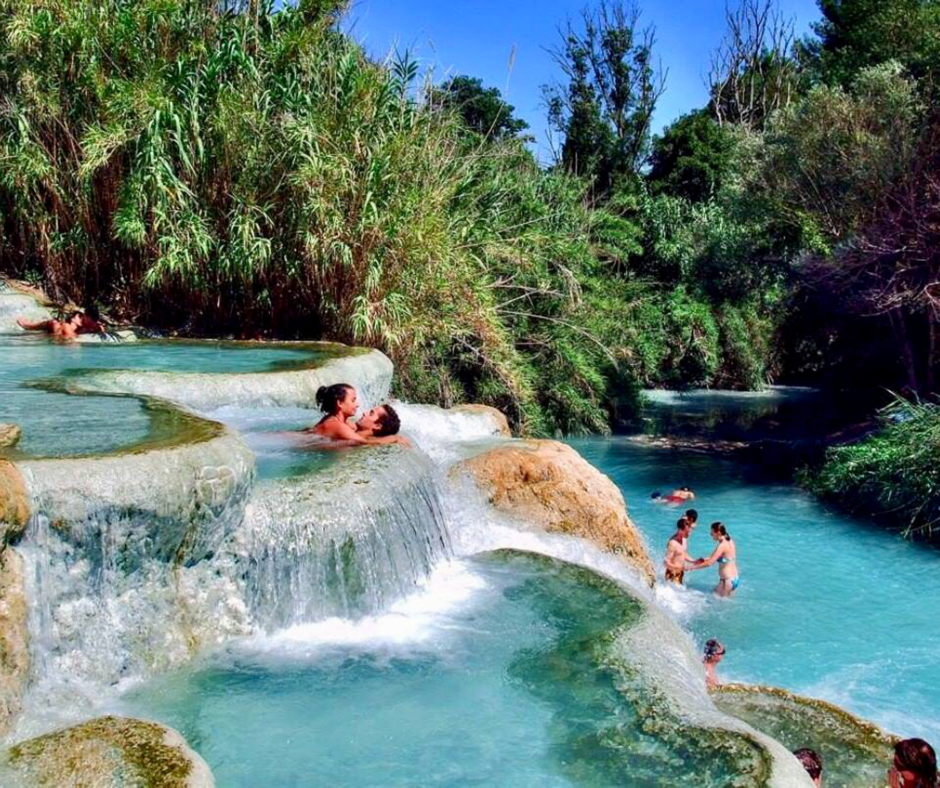 Near the Borghetto we have many spas, but also natural spas where you can immerse yourself and make mud freely.
The nearest town is
Bagno Vignoni:
At the center of the village is the "Piazza delle Sorgenti", a rectangular basin, of sixteenth-century origin, which contains a source of hot and steaming thermal water that comes out of the underground stratum of volcanic origins. Since the time of the Etruscans and then of the Romans, the baths of Bagno Vignoni have been frequented by illustrious personalities, such as Pope Pius II, Catherine of Siena, Lorenzo de 'Medici and many artists who had chosen the village as a holiday home.
The waters that come out of the thermal pool head towards the steep escarpment of the Mulini Natural Park; there are four medieval mills excavated in the rock that were important for the local economy.
Following on the Via Cassia we find the junction for
Bagni San Filippo and its White Whale
Located on the slopes of Mount Amiata and historically known for its healing waters, Bagni San Filippo has its splendid 'Fosso Bianco', a stream immersed in the wood where several hot springs meet in a succession of 'ponds' (pools) where it is possible to bathe all year round and admire the particular concretions of calcium carbonate, which have inspired different names for the "white whale".
In the northern area, half an hour's drive we find Rapolano terme.
Saturnia a little further away than the others, but with natural swimming pools that cannot be found anywhere else!